About The Orthopedic Foundation for Animals
Breeders have an inherent responsibility to protect the comfort and well-being of the animals they produce, yet the dog and cat owning public spends hundreds of millions of dollars each year on diagnosis and treatment of genetic diseases. These factors justify placing continued emphasis on prevention of these diseases. Responsible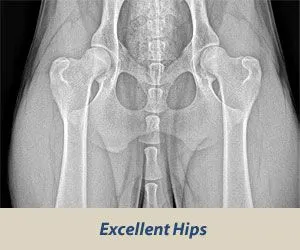 breeders and the more progressive breed clubs are, and have been, responding to the challenge of improving the genetic health of our companions through better breeding practices. The Orthopedic Foundation for Animals, Inc., (OFA) is a private non-profit foundation which formed a voluntary dysplasia control database in 1966 with the following objectives: 1. To collate and disseminate information concerning orthopedic and genetic diseases of animals. 2. To advise, encourage and establish control programs to lower the incidence of orthopedic and genetic diseases. 3. To encourage and finance research in orthopedic and genetic disease in animals. 4. To receive funds and make grants to carry out these objectives. The OFA's voluntary databases serve all breeds of dogs and cats and have the world's largest all-breed data bank on radiographic evaluations of the hip and elbow. The testing methodology and the criteria for evaluating the test results for each database were independently established by veterinary scientists from the respective specialty areas. These standards are accepted throughout the world and the results are used to evaluate prevalence and progress in controlling the respective diseases in the breeding population. The OFA serves as a central source of information for breeders and owners based on the standards for evaluation, and as a major source of funding for studies directed at animal wellness. The purpose of this monograph is to assist the breeder, dog owner, and veterinarian in accomplishing their goals by providing a summary of information on the OFA databases, their methodology, and a reference source for further study. Data on individual animals may be obtained at www.offa.org. This data can be useful for the breeder to determine the status of potential breeding animals and their family lines.
Inherited traits, desirable or not, are controlled by the genetic makeup (genotype) of the individual dog or cat. The genotype is determined by the genes received from the parents, one-half from the sire and one-half from the dam. Most inherited traits in animals are polygenic. Some examples are: conformation, type, size, longevity, disease resistance, temperament, speed, milk and egg production, growth rate, maturation and sexual maturity rate, and numerous inherited diseases.
PRELIMINARY EVALUATIONS FOR ANIMALS UNDER 24 MONTHS
Frequently, breeders want early knowledge of the hip status on puppies in a given litter. Preliminary hip evaluations may be as valuable to the owner or breeder as the final OFA evaluation. This allows early selection of dogs for use as show/performance/breeding prospects and dogs best suited for pet homes.
The OFA accepts preliminary consultation radiographs on puppies as young as 4 months of age for evaluation of hip conformation. If the dog is found to be dysplastic at an early age, the economic loss from the cost of training, handling, showing and so forth can be minimized and the emotional loss reduced. These preliminary radiographs are read by the OFA veterinary radiologists and are not sent to outside radiologists. The same hip grades are given to preliminary cases.
A recent publication* compared the reliability of the preliminary evaluation hip grade phenotype with the 2 year old evaluation in dogs and there was 100% reliability for a preliminary grade of excellent being normal at 2 years of age (excellent, good, or fair). There was 97.9% reliability for a preliminary grade of good being normal at 2 years of age, and 76.9% reliability for a preliminary grade of fair being normal at 2 years of age. Reliability of preliminary evaluations increased as age at the time of preliminary evaluation increased, regardless of whether dogs received a preliminary
evaluation of normal hip conformation or HD. For normal hip conformations, the reliability was 89.6% at 3-6 months, 93.8% at 7-12 months, and 95.2% at 13-18 months. These results suggest that preliminary evaluations of hip joint status in dogs are generally reliable. However, dogs that receive a preliminary evaluation of fair or mild hip joint conformation should be reevaluated at an older age (24 months).