Did you know that accreditation for animal hospitals is voluntary? Surprising, isn't it? Nearly 60% of pet owners believe that their pet's veterinary hospital is accredited when it is not. In actuality, only 12-15% of animal hospitals have gone through the accreditation evaluation process by the American Animal Hospital Association (AAHA). We are proud to call ourselves an AAHA accredited hospital.
In the United States, all human hospitals that serve people with Medicare must be accredited through an accrediting body; they undergo regular reviews and quality checks to ensure they meet standards of quality for every aspect of medical care. However, not all animal hospitals choose to pursue the AAHA accreditation process since it is not required by law. When it comes to pet health care, accreditation is voluntary. The accreditation process is rigorous and time-consuming, and not every veterinary hospital wants to go through the lengthy process.
Accreditation by AAHA means that an animal hospital has been evaluated on approximately 900 standards of veterinary excellence. To maintain their accreditation, hospitals undergo a rigorous review by veterinary experts every three years. State and provincial regulations can vary widely – in fact, some states don't routinely inspect hospitals, only going in for an inspection when a complaint is filed by a pet owner. AAHA accreditation is considered the standard for veterinary excellence and does not vary between states or provinces (AAHA accredits hospitals in both the U.S. and Canada).
We are an AAHA accredited veterinary hospital. That means we hold ourselves to a higher standard. Pets are our passion and keeping them healthy is our #1 priority. Here at CRVC we strive to deliver excellent care for pets because your pets deserve nothing less.
Learn more about AAHA accreditation and why our accreditation is important to you and your pet on their website here.
---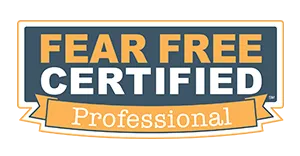 Fear Free is an organization focused on helping veterinary doctors and staff to provide calm, low-stress environments for pets during a visit to the vet. Their program trains veterinary professionals to not only recognize the signs of stress and anxiety, but also how to alleviate them. We have several fear-free certified staff at our practice who help with our more fearful patients, giving peace of mind to both pet and parent. Read more about the Fear Free Experience here.
---
The Pennsylvania Veterinary Medical Association (PVMA) is the only statewide professional membership association dedicated exclusively to the profession of veterinary medicine and the interests of the veterinary team. Established in 1883, PVMA membership has grown from its original 22 founding members to 3,400 and 500 veterinary students. Today, we represent every member of the veterinary team. The focus of our association is professional development, advocacy, and practice vitality to ensure the continued success of our members.