During Your Visit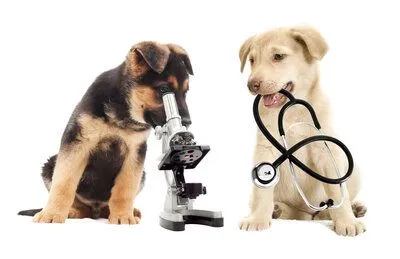 In your search for a veterinary facility, we believe you should expect high quality care as well as great service. Our goal has been to assemble a veterinary health care team committed to providing exceptional client service and veterinary health care. Our commitment to you is to continue to offer our world class service and a state of the art veterinary facility.
We strongly encourage all of our patients to visit us at least once a year for a wellness exam. Routine nose to tail wellness exams are protective of your pet's health. During your visit, you will have twenty minutes with the doctor. This one-on-one time is where your veterinarian will perform a physical exam, review prior health records, and discuss various treatment options and approaches that are in the best interest of your pet. It's a good idea to keep an accurate medical diary not only of the procedures and vaccinations your pet receives at the vet, but also of notes on things like your pet's elimination habits and any physical changes or unusual occurrences. Keep track of small shifts in your pet's behavior, including urinary marking habits and mood swings, along with diet and routine modifications. Take this notebook when you visit the vet. These seemingly unrelated occurrences may help explain results of your pet's medical tests. Also, if you need to change vets, it's good to have this journal to provide a complete medical history.
Our veterinarians are calm, compassionate and willing to explain all the procedures your pet undergoes. Try to find a vet with whom both you and your pet feel comfortable. Try to have it convenient, choose a clinic with qualified staff and facilities to undertake surgery and perform procedures requiring anesthesia, such as teeth cleaning. Because of the general risks inherent to anesthesia, especially for very old, very young or very ill pets, your veterinarian will likely suggest a few exams, including a chest X-ray and lab work of blood and urine, before your pet is anesthetized. During the procedure he might need an IV drip; antibiotics may be necessary before and after.
Your veterinarian may refer you to a specialist, veterinarians who have completed advanced studies in specialties such as internal medicine, surgery, and emergency care, if your pet must undergo a procedure that requires more precise knowledge and experience.
---
Clinic Policies
Appointment Policy
To allow ample time for all scheduled patients and surgical procedures, we operate primarily by appointment. Emergencies will always receive top priority, in which case you may encounter a delay. If you believe you have an emergency, please call our office to notify us so our staff can be ready for your arrival. Please realize that we make a sincere attempt to see each client on time. Be sure to notify one of our Customer Service Representatives if you feel your wait time was longer than 20 minutes.
---
Patient Arrival Policy
We ask that you please plan to arrive at least 10 minutes prior to your scheduled appointment, bring your pet's medical history to your first visit, and complete our client/patient registration form prior to meeting with the doctor. Late arrivals and delays due to the registration process reduce the time available for the doctor to meet with you. If your pet is ill and seeing us for the first time, please bring any copies of recent test results, biopsies, other records, etc. Also please let us know your pet's most recent vaccination history.
For your protection, and that of others, all dogs must be on a leash and properly controlled while in the waiting area or exam room. All cats must be in a secure cat carrier or on a leash.
For the safety of all animals in our care, we require that all vaccines be up to date. Even though we make every effort to make our patients feel comfortable during visits, they may be a little uneasy about new people, new surroundings, and other pets -- this is one of the reasons we ask you to restrain your pet. We ask that all pets be placed on a leash or in a carrier before entering the waiting room. If you do not have a method of restraint, please leave your pet in the car and come inside to get a leash or carrier. We would be happy to loan anything you may need to keep everybody safe! We also have cat carriers available for purchase depending on availability.
---
Patient Late Policy
If you encounter a delay and will not arrive within 5 minutes of your scheduled appointment, please call us. We will try to accommodate you either upon your arrival, at a later open appointment, or at a later date depending upon the schedule for the day. If you know that you are going to be 10 or more minutes late, we will need to reschedule as to not put the doctors and technicians too far behind schedule.
---
Financial Policy
Complete payment is due when services are rendered. This would include, but is not limited to: all exam fees, vaccinations, prescriptions and pet foods, over-the-counter products, diagnostics (lab work and x-rays), elective surgery (spays, neuters, declaws, dentals, etc.).
We accept cash, check, debit/credit cards, CareCredit, and Scratchpay. We understand that particularly in unforeseen emergencies, budgets may be tight -- that is why we always discuss an estimate for your pet's care before that care is decided upon, and in some cases can review alternative treatment options. See the Payment Options section below for more information.
Delinquent Accounts
Any bills over 30 days past-due will be considered delinquent and will be assessed a monthly processing fee of $7.50. A bill over 60 days will terminate any credit privileges by that client for 90 days. At 90 days, a delinquent account will be referred to a collection agency or small claims court. By signing our registration form, you agree to reimburse us the fees of any collection agency, which may be based on a percentage at a maximum of 33% of the debt, and all costs, and expenses, including reasonable attorneys' fees, we incur in such collection efforts.
Declaration of bankruptcy, collection accounts, and subsequent default of any portion of a bill will terminate availability of services with this office.
Non-emergency services/treatments will only be done AFTER a delinquent account is paid in full. Future services/treatments must be paid in full before starting any new treatments.
Payment Options
CareCredit *
To apply for CareCredit, you can submit an application online before services are rendered. A specific credit limit will be extended. If the credit limit does not meet the cost of the bill, the owner is responsible for the remainder of payment at the time services are rendered.
Highlights of the CareCredit program:
Low Monthly Payments (3% of the Total Balance)
Apply in person, right here, right now and determine approval in only a few minutes
No Annual fee
Get a low interest payment plan for any treatment amount
Like a credit card, but better. CareCredit works just like a regular credit card, but without high interest rates, annual fees, or pre-payment penalties. It offers flexible and convenient financing options with zero hidden fees and low monthly payments. You can use your care credit card over and over for all your pet's follow-up care as well as annual exams and vaccines.
*Application required - credit may not be extended if credit history is not acceptable

---
Scratchpay
Pay later at rates as low as 0% APR. Scratchpay offers simple and affordable payment plans for large veterinary bills. Get your pet the care they need immediately. Scratchpay isn't a credit card and finding your payment plan will not affect your credit score. Completing the application and accepting the loan terms takes only a few minutes and can be done from your cell phone or computer. Text PAY to 213-296-0817 or visit their website to apply.
How it works:
Apply for a payment plan from your phone or desktop.
Check your rate and pick your payment plan.
Get your pet the care they need.
No hidden fees. No prepayment penalty. No deferred interest. No surprises.
Scratchpay approves more pet parents, with affordable rates as low as 0% APR.
---
Check
Please make your checks out to Cherry Ridge Veterinary Clinic or CRVC. A fee of $30.00 will be charged for each returned check. If this happens repeatedly, we reserve the right to refuse payment by check and will require cash payment in advance prior to any further services being rendered.
---
Pet Insurance
As a pet owner, you may want to consider investing in pet insurance - especially for unexpected and/or emergency visits. Visit Pawlicy Advisor to compare top pet insurance companies side-by-side and find the plan that works best for you and your pet!