What to Expect at Your Puppy's Vet Visits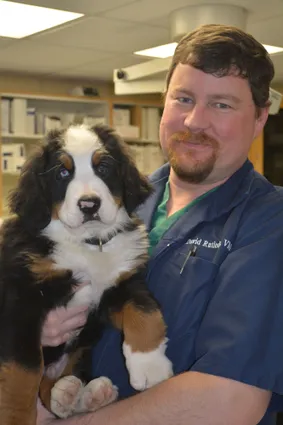 Congratulations on your new puppy! Thank you for choosing us to help protect and care for your new addition to your family. Our puppy wellness program is designed to help get your puppy started on the right path to a long and and healthy life. It's important to schedule your puppy for his or her exam as soon as possible. We will make sure your new family member is protected.
Puppies are lively and cute, but they also have specific medical care needs. At CRVC we like to make you aware of these requirements so you can keep your puppy healthy and help them grow into happy, healthy adult dogs. We are here to help you address the physical and behavioral needs of your new puppy. Our staff will spend time with you at each visit answering all of your questions.
After bringing a new puppy home they will need time to adjust. Your goal should be to help your little one bond with their new family. This will help minimize stress on your new puppy after having left their mother and littermates. At home, play, exercise, social contact, feeding, and good veterinary care are basic requirements. Behavioral training is important! Training leads to a happier pet and a rewarding relationship with your new puppy. Be sure to enroll your puppy in a puppy training class and read your puppy emails that you will receive from us. Visit our Local Pet Services page for a list of local trainers.
First Visit - Around 8 weeks of age
Physical Exam
First Distemper vaccine
First Fecal Exam
Dewormer
Start Heartworm prevention / Flea and Tick Prevention (free sample)
Staff will discuss socialization, playing vet, and training
In addition, you will receive a packet of information
Second Visit - Around 12 weeks of age
Physical Exam
Second distemper vaccine
Rabies vaccine (if size permits)
Dewormer
Leptospirosis vaccine (if desired and necessary)
Staff will talk about spaying/neutering, socialization, dental prevention, and parasite prevention
Third Visit - Around 16 weeks of age
Physical Exam
If at least 16 weeks of age, final distemper vaccine
Lyme vaccine #1 (if desired)
Second Fecal Exam
Staff will discuss behavior since at this age there is only 2-4 weeks before they go from kids to teenagers. They will also discuss weight and weight change after spaying/neutering
Optional wellness labwork
6 Months of Age
Spay/Neuter
Dewclaw removal if desired